Brethren, here is your Blog update for our Regular Meeting on Friday, June 8 & District Golf on Saturday, June 9.  Our Meeting was a relatively short one, opening in the 1st only, conducting business and doing a "Walk-About" the Lodge room with Bro. Sean Peterson, stopping at each station and explaining that particular officer's duties.  A Great idea!  Sausage BBQ followed the meeting at the Festive Board.
The Annual District Golf Tournament was held at Silver Lake Golf Course, near Maidstone.  16 Members and Guests attended.  As usual a good time was had by all.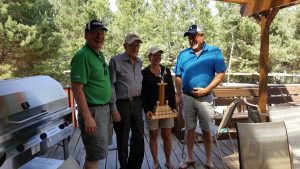 R.W. Bro. Kevin Monsebroten receiving his Past Masters Certificate for 2017.
W.B. Jack Smith presents his Tatting to W.M. Mark Barclay. This will be used as a Book Mark in our Lodge. Tatting shown below.
Tatting is a technique for handcrafting a particularly durable lace from a series of knots and loops. Tatting can be used to make lace edging as well as doilies, collars, accessories such as earrings and necklaces, and other decorative pieces.
 Thank you Bro. Smith for doing such fine Work.
District Golfers relaxing after a round of golf at the Silver Lake Golf Course on Saturday, June 9.Players were from Meadow Lake, Unity, Lloydminster and The Battlefords.  It was hot & windy, but a great day was had by all.
And the Winners were.